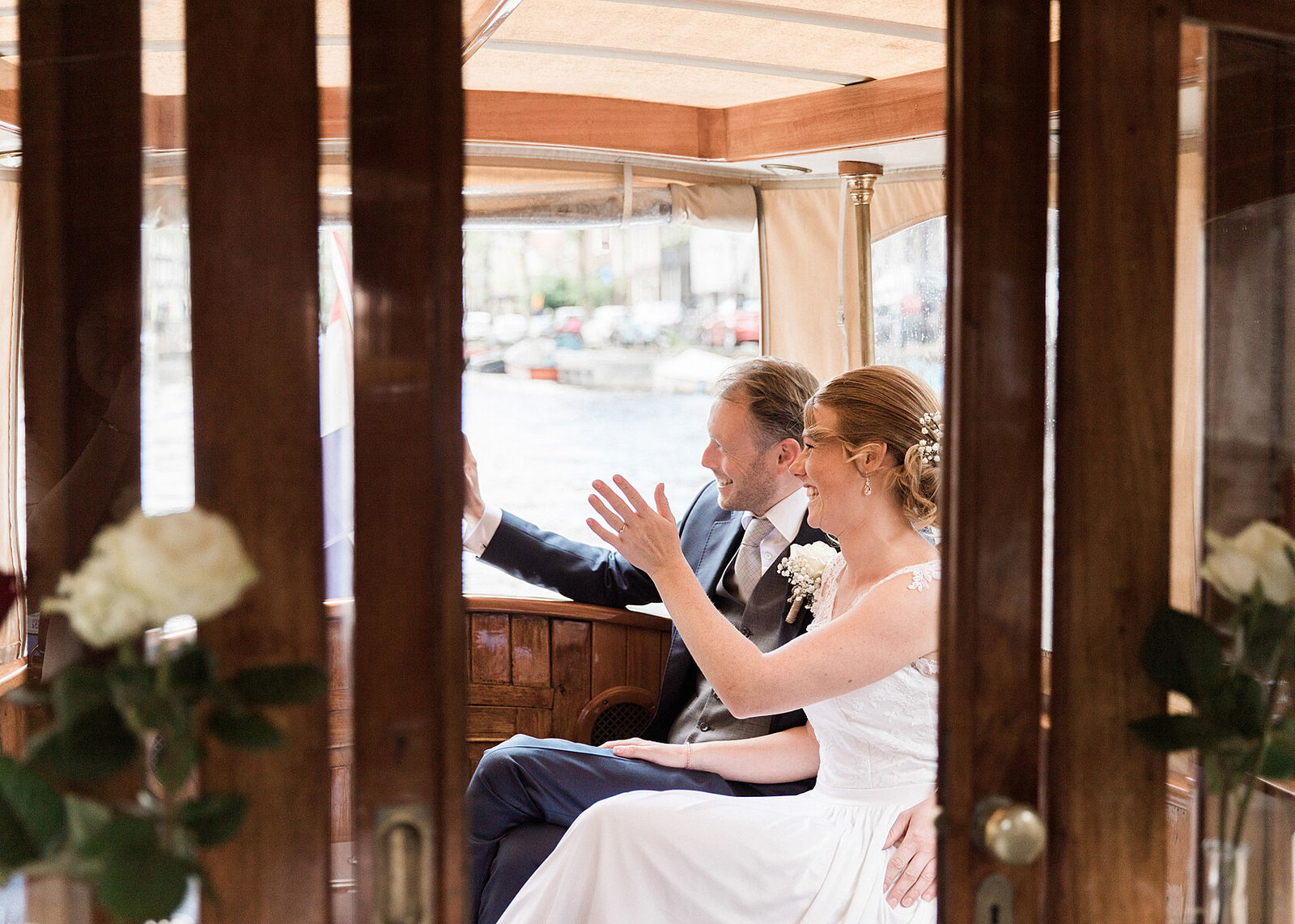 Getting married on a boat in Amsterdam
A special day taken care of down to the last detail. From wedding ceremony to wedding party and from marriage proposal to wedding transport and reception on a luxury boat.
Getting married in Amsterdam?
Make it extra special and choose a wedding on a boat!
The characteristic boats are perfect as a wedding location for a group of up to 65 guests. Would you like the ceremony to take place on board? Then you must take an option on the desired day and time at the Department of Civil Affairs of the "Stadsdeel Centrum".
Let them know that you want to get married on one of the boats of Amsterdam Boats and discuss all the necessary details, such as the boarding location of the marriage officiant, with the Stadsdeel. Once you have finally reserved the specific boat, you must inform the municipality so that they can convert your option on the wedding date into a final booking.
Our example program below is just 3.5 hours, but can be tailored to your needs.
13.00 You and your guests will be received at the Hermitage with coffee and tea.
14.00 We will start the wedding ceremony with your vows under the Magere Brug.
15.00 After the ceremony, we will celebrate with a glass of Champagne and cutting of the wedding cake.
15.30 The reception will include drinks of your choice and a beautiful selection of cold and hot snacks.
16.30 The program can end at this point, or we can add additional hours of fun and celebration.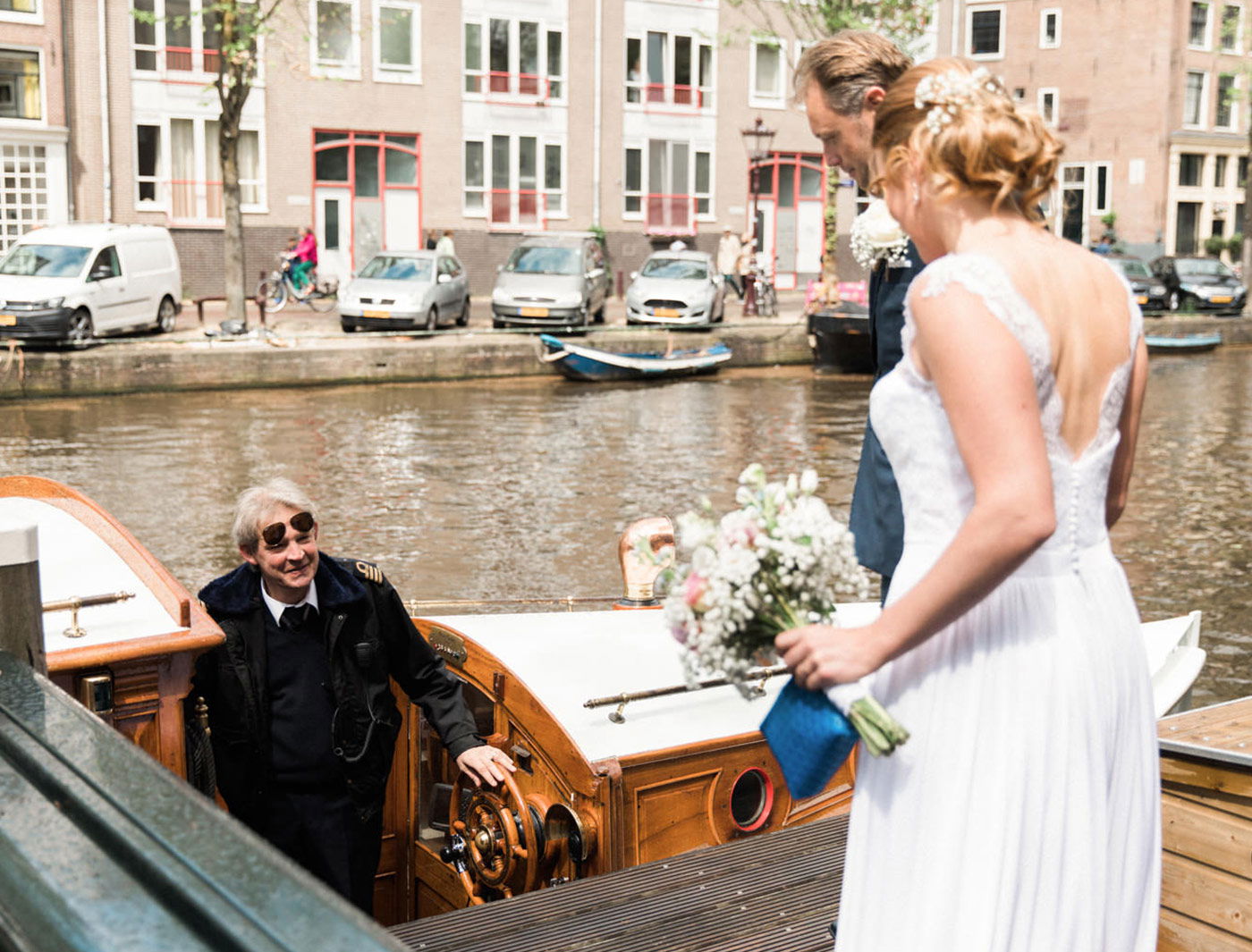 Wedding location Amsterdam
We would be delighted to help you organise your special day! Our picturesque boats offer the perfect setting for a romantic and unforgettable wedding ceremony in Amsterdam. Get married in the company of your closest friends and family, with the stunning canals of Amsterdam as your backdrop. Our boats are officially recognised as wedding venues by the Amsterdam City Council, so you can be sure that your big day will be perfect.
The most beautiful wedding location in Amsterdam
If you're looking for a wedding ceremony, wedding party, wedding reception or wedding transport, you've come to the right place. Haven't you asked the big question yet? We're also happy to provide a romantic experience for marriage proposals, taken care of down to the last detail.
Getting married on board with the Municipality of Amsterdam
Our boats are designated as official wedding locations in Amsterdam. This means that the wedding ceremony can take place on board and you can say yes to each other while sailing, surrounded by family and friends. The stylish, characteristic boats are suitable for both large and smaller groups, depending on your preference. All are equipped with modern facilities so that you lack nothing
The most beautiful day of your life, fully catered
We would be honored to cater your most special day. In consultation, we offer various packages to enjoy this special day in the culinary field. From exquisite cold and warm snacks to a gourmet walking dinner with matching wines, we will make sure your day is perfect. Our experienced skipper ensures a pleasant trip and the staff assures you and your guests that you lack nothing. Do you have any specific wishes for decoration, music or catering on board? Our experienced team is happy to discuss the options with you.
Say yes to each other while sailing on the Amsterdam canals
Have an unforgettable day with your loved ones aboard one of our unique salon boats. The intimate private atmosphere makes your wedding in Amsterdam extra special, with the beautiful canal belt as a backdrop!
Plan your dream wedding today
Would you like more information about having your wedding at this unique location in Amsterdam? Our team would be more than happy to provide you with all the information you need. We like to think along with you, so that your wedding day is perfect in every way. Make a non-binding request or call us directly.
Esther and Bas's experience
"Our wedding was beautiful and perfectly arranged down to the last detail"
Onno Ditewig
Chief skipper
"Our classic boats are sailing heritage and we are proud to be able to sail them. On board we receive the guests and tell them with love about the boat and the special places along the Amsterdam canals. Together with a close-knit club of waiters, we ensure that our guests have a richer experience after the cruise."
Luxury boats for an unforgettable wedding
We have selected these luxury boats especially for you to sail with this occasion.
The Most Popular Boarding Locations for a Boat Wedding in Amsterdam
You can choose from more than 120 jetties when booking a boat wedding in Amsterdam. These are our most popular boarding locations for a boat wedding.
VIEW ALL LOCATIONS
FAQs about getting married on a boat
Yes! The boats of Amsterdam Boats are an official wedding location designated by the Municipality of Amsterdam. You can give your 'yes' word while sailing on the Amsterdam canals with us.
If you wish to have your ceremony on board, you must first take an option on a day & time at the Civic Affairs department of the City District Centre. You indicate here that you want to get married on board one of the boats of Amsterdam Boats and you discuss all necessary matters, such as the boarding location of the marriage officer, with the City District. As soon as you have definitively reserved the specific boat, you must inform the Municipality so that they can also convert your option into a definitive booking on the wedding date.
Depending on the program on board, you can sail with a maximum of 75 guests on one boat. For example, if you are going to have a seated dinner on board, the maximum number of people will be lower than if you only organize a reception. Our team is happy to discuss the options with you.
Sure! In most cases, the boot is part of the program. Sometimes we sail the bridal couple to the wedding location, at other times the ceremony is on board with us, at other times we organize the wedding party or we take care of the wedding transport of all guests between the different locations.
Boat Rental Amsterdam can use no less than 120 different boarding and disembarkation locations in Amsterdam. We always try to pick up and drop off you and your guests at a location that is as close as possible and take into account parking and the use of public transport.
Want to rent a boat in Amsterdam?
We offer the highest quality boats at the best price in Amsterdam;
All of our boats come with a professional skipper and crew on board;
We have a generous choice of different packages for a culinary experience.
Need personal advice?
+31 (0)20 624 76 35