Promotion! If you book one of our boats online today, you will receive a €50 discount.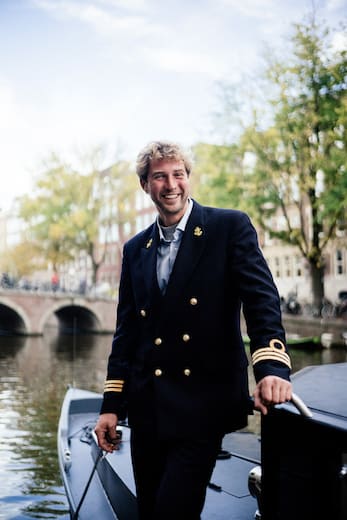 Conditions BHA gift card
• This promotion is only valid on days when you see this notification.
• You book and pay via the form behind the 'book' button on the page of the available boat of your choice.
• This promotion does not apply to bookings made by or with the intervention of our sales staff.
• The discount is immediately deducted from your reservation total.
Boat tours with Rent a Boat Amsterdam
Classical or contemporary, with a closed or open, intimate or just for a large group? We have the perfect luxury boat for you tailored to the occasion.
Find your perfect boat
Search and compare our wide range of luxury boats and make use of 2859 guest reviews to find your perfect boat.
Request free of charge
Request your boat free of charge and without any obligation or call +31 (0)20 6247635 for free expert advice and a customized quote.
Carefree sailing
Enjoy a fully catered canal cruise through Amsterdam with skipper, hostess, food and drinks with
Popular boats
Why Rent A Boat Amsterdam?
At Rent A Boat Amsterdam you are at the right place for luxury rental boats for an unforgettable trip on the Amsterdam canals, the Amstel river and the IJ. All boats on Rent A Boat Amsterdam have been carefully selected on the basis of more than 40 criteria and are perfectly suited for private boat tours tailored to your specific wishes. Also all our rental boats include a professional crew. When organizing a special event Rent A Boat Amsterdam offers the perfect boat, service with a smile, attention to your guests, good food and drinks and a professional execution of the agreed program. Have a carefree luxury boat tour and book at Rent A Boat Amsterdam.
Personal advice?
+31 (0)20 6247635
Avarage rating Rent a Boat Amsterdam
On time. Good skipper. Nice waiters. Great quality experience.
Great service and help before the trip for booking and explaining options etc. Super experience during the trip. Friendly skipper with beautiful tour. Good and friendly service for drinks and food.
Great experience, very friendly staff and everything was organised very well.
Inspiration
Choose the boat that suits you best – RentABoatAmsterdam.com
Are you looking for a boat to rent in Amsterdam? We offer a great selection of luxury boats in Amsterdam with skipper and help you book the boat that suits your specific needs best. Five types of boats are offered on the Rent A Boat Amsterdam website: canal boats, large boats, open boats, IJ boats and canal cruisers. Feel free to contact us for free expert advice and choose the boat that suits you best.
Populair boat types
Use our checklist and choose the boat that suits you best
You are looking for a boat that fits perfectly with your party and the occasion. On the Rent A Boat Amsterdam website you can find the available boats based on the sailing date, start time, the number of guests and the occasion. With every boat you will find all the important information to be able to compare different boats. When making your boat choice, keep the following points in mind and feel free to contact us for free expert advice:
Which facilities are important to me and are they on board? Think of: toilet, heating, sound system and bar.
Is the boat suitable for the weather conditions that I expect? Think of an open- versus a covered boat, the presence of heating and the possibility of opening the windows and / or the roof.
Where can I board and what costs are involved?
Can I take care of the catering myself and what costs are involved?
Do I have all costs at a glance? Think of personnel (skipper and host (ess)), taxes (VAT and tourist tax), call out charge and catering costs.