Marriage proposal on a boat
That single moment, perfectly planned. Let us take care of your special marriage proposal down to the last detail. On board a classic luxury boat, cruising the canals of Amsterdam is the most original and romantic location!
A unique and special marriage proposal in Amsterdam
What could be more original than a luxury private boat as the location for a marriage proposal? Such a thrilling moment should be perfect down to the smallest detail. Will your beloved say "YES" to the most romantic question there is, "Will you marry me?" On our comfortable private boat, you can experience the ideal day. For example, step aboard the romantic Marie Zurlohe, complete with your own captain and crew, so you can focus entirely on the proposal. All you have to do is prepare your marriage proposal, we'll take care of the rest!
An unforgettable marriage proposal: on a boat in Amsterdam
We make sure our beautiful salon boat is ready and waiting for you at a boarding location of your choice. The boat will also be fully decorated with a bouquet of red roses, various small snacks, romantic background music, and of course a delicious bottle of Prosecco to toast to love after the marriage proposal. For 2 hours you can enjoy each other's company and the beautiful city. If you have a certain location in Amsterdam in mind to ask the big question, feel free to let us know. Our experienced captain will give you a signal just before you approach the location.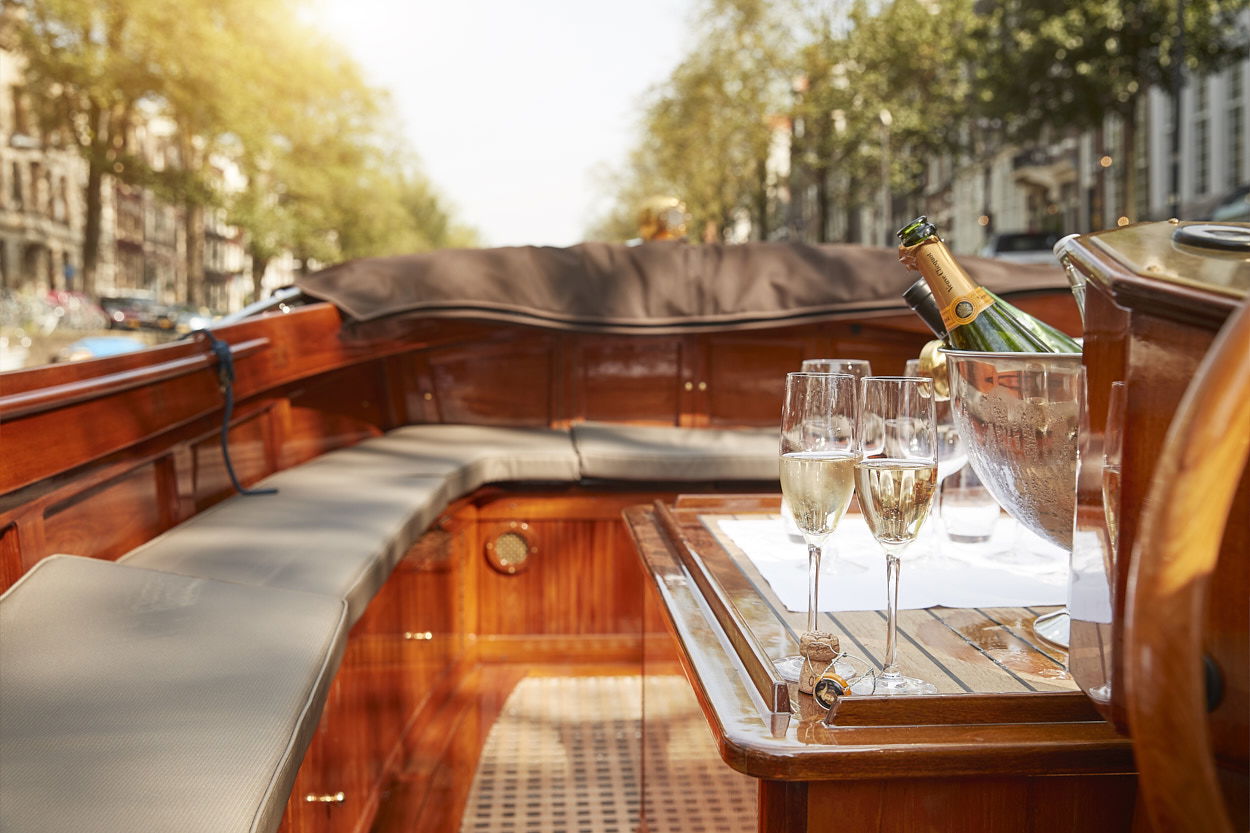 Book an intimate private cruise in Amsterdam
The Amsterdam canals are the perfect place for a special marriage proposal. The magical, characteristic environment with historic houses and impressive canals are the ideal setting for an unforgettable day. Do you have additional, special wishes for the cruise, such as certain music, flowers, a photographer or decoration? Please let us know. Our enthusiastic team will do everything to help you with the perfect marriage proposal.
Plan your marriage proposal with us
Do you want more information about this special marriage proposal on our intimate and romantic salon boat? Then please get in touch with our team. We are happy to think along with you, so that the marriage proposal becomes an unforgettable moment for your loved one and you. Please make a non-binding request now.
+31 (0)20 6247635
Boarding locations
These jetties are popular when booking a marriage proposal boat tour. You can choose from over 120 locations when making your reservation.
VIEW ALL LOCATIONS
FAQs about a marriage proposal on a boat
We always recommend a boat where you have complete privacy. The best is a boat where you are not in the same room as the skipper. What is also very important is that there is a rear balcony where you can sit romantically and that the boats are equipped with a salon so that regardless of the weather conditions it will be a perfect trip.
Certainly! A bunch of red roses and rose petals on the table covered with white linen. A bottle of champagne waiting in a cooler with two champagne glasses. Or maybe you have specific wishes that suit you? We like to think along with you.
Of course. We discuss the program with you in advance so that the skipper knows exactly what the intention is. At the location of your choice, for example under the skinny bridge or in front of the Amstel hotel, the skipper will choose a nice spot. So you can fully concentrate on the marriage proposal.
Find the perfect boat for your marriage proposal
Want to rent a boat in Amsterdam?
We offer the highest quality boats at the best price in Amsterdam;
All of our boats come with a professional skipper and crew on board;
We have a generous choice of different packages for a culinary experience.
Need personal advice?
+31 (0)20 624 76 35