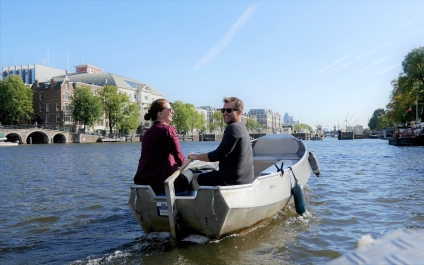 Amsterdam has a few boat rental companies where you can rent a small boat to drive yourself. A nice and affordable way to explore the canals with your family or some friends!   
For that kind of boat tours Rent A Boat Amsterdam recommends Boaty Boat Rental and Boats4rent Boat Hire. They have decent boats and provide friendly service at the best rates in town.
How does it work? It's recommended to book your boat in advance, in particular for weekends and holidays. You will receive a confirmation via e-mail and the boat rental staff will await you at the time of your booking.
You don't need any license to drive a small rental boat on the Amsterdam canals. The staff will give you a proper briefing about the handling of the boat and the basic rules on the canals. Your rental also includes a map of the canals (with suggested routes on it), foam seats to sit on and life vests for the kids and others on board that cannot swim.
Your canal tour with a self-drive boat always starts at the dock of the boat hire. Boaty's dock is located in 'De Pijp', a popular and lively neighbourhood in the southern city center. It's only a few minutes walking from metro station 'De Pijp'. If you prefer to start and end your rental in the western city center, you'd better go for Boats4rent. That has a dock at the cultural hotspot Westerpark, close to the northern Jordaan neighbourhood.
All rental boats are electric. They are zero emission, silent and easy to drive. Full batteries are included in the rental price. Catering is not included in this kind of boat rental. So it's recommended to bring your own food and drinks.
The maximum number of people per boat is limited to six, due to the license and insurance. Rates start at € 79,- per boat for a three hour rental.

Are you ready to book your self-drive boat rental? Or do you want some more information about it? Please get in touch directly with Boaty Boat Rental or Boats4rent Boat Hire. Enjoy!