Reviews Canal boat Ondine
Featured feedback about Canal boat Ondine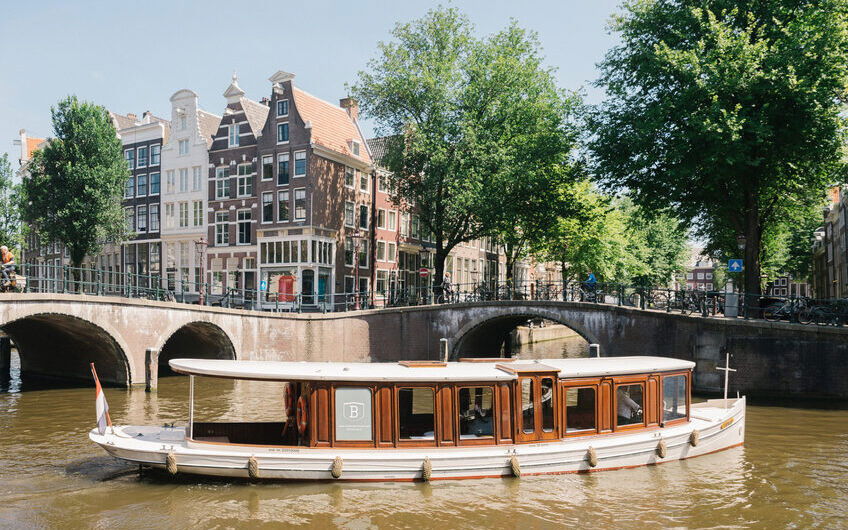 How likely is it that you will recommend us to family, friends or colleagues?
Great service and help before the trip for booking and explaining options etc. Super experience during the trip. Friendly skipper with beautiful tour. Good and friendly service for drinks and food.
How do you rate the booking process prior to the boat trip?
10
How do you rate the service on board?
10
How do you rate the quality of the catering and / or drinks? (only if applicable)
9
Show More
9.2
Mr. Ewald
September 18, 2021
---
August 10, 2015
Ms. Smillie
a very relaxing and enjoyable experience.
---
July 20, 2015
Hazel Thornton
A brilliant trip in beautiful surroundings, all 21 ladies of all ages thoroughly enjoyed themselves!
---
May 04, 2015
Alessandro Coppo
The experience would have been close to perfect if it were not for a significant problem we had on the boat. My 9 year old daughter hurt herself with a piece of glass, probably a left over from a broken glass or bottle that was on the seat bench in the rear part of the boat. It cut through her jeans and caused quite significant bleeding. Nothing too serious fortunately, but still unpleasant. There was nothing to disinfect on the boat (the emergency kit missed that). Staff on the boat was very polite and did all they could to help in this unfortunate situation, providing what needed with a couple of phone calls in 10 minutes. All was good after 15 minutes a bit hectic and the rest of the cruise was great and everyone enjoyed it. Still... that piece of glass should clearly not have been there.
---
April 07, 2015
Sarah Whitaker
Excellent service - on time and great skipper
---
April 05, 2015
ERNESTO REYES
Excellent Boat and Service
---
March 18, 2015
heer Weber
We had a very good time on board. with a very good and captain and waitress. We had lots of fun!!!
---
March 09, 2015
Martin Samberger
Very pleasant trip, super friendly staff!!! Highlight of our weekend in Amsterdam!
---
February 09, 2015
Thomas Danner
Was a wonderful tour, all my colleagueas enjoyed it a lot.
---
August 20, 2014
George Cawman
As advertised. VERY PLEASED WITH ALL ASPECTS OF THE EXPERIENCE.
---
August 02, 2014
Scott Bogner
Also the office staff was great to work with as we were preparing for this evening! They made it very hassle free and we WILL use them again for future events!
---
March 17, 2014
---
February 09, 2014
Xavier Thoma
Terrific boat, wonderful captain and crew, we loved every minute of it. I will pass on the tip to any friends coming to Amsterdam
---
December 16, 2013
Lia Hickman
WOW! I'm at a LOSS for words to TRULY describe my 40th BDAYBASH(27/11/13) at the ONDINE! My family, friends and I had the most AMAZING time! It was ABOVE EXPECTATIONS and EVERY time I think back, it brings a BIG SMILE to MY FACE and I fall in LOVE with the ONDINE and AMSTERDAM BOATS all over again! UNFORGETTABLE! A big THANK YOU and special THANKS to Jaap, Harald, Fedor en Douwe!
---
August 09, 2013
Enrico
Boat is cozy and glamorous. Crew is very nice and welcoming. Our wedding tour was fantastic!
---
October 20, 2012
Iain Blake
Thank you. We had a wonderful day..
---
September 03, 2012
martin angell
We tried to rent the Jean Schmitz, but unfortunately they were slow and inefficient in getting in contact with us, and were eventually unable to offer the time slot we had requested. Instead we booked the Ondine. They were efficient in the planning stage, and excellent on the day: helpful, friendly, and very competent. Our guests said it was the high-spot of our weekend in Amsterdam. It is unlikely that we will ever organise such an event again, but if we did we would happily use them again, and recommend them to others.
---
January 03, 2012
James Davies
Absolutely Brilliant, made a special experience (Marraige Proposal) even more special. A big thankyou to everyone at amsterdam boats and a special mension to the guys on board with us on the night! Would love to experience it again some day!
---
November 22, 2011
Anonymous
Dear Bastiaan, Just to say thank you very much to everyone involved with the organisation of our cruise on Saturday, it was absolutely superb and everyone had a fantastic time. Robert and Louise were charming and the fondue was excellent and just generally the whole thing was just excellent!! I organised the evening as a surprise for a friend and she hasnt stopped talking about it since! Please pass on my huge thanks to everyone involved. I shall be recommending you to widely.
---
October 10, 2011
Christoph Kloidt
super service, the dinner was perfect. We had lots of fun.
---
May 07, 2011
Anonymous
Very enjoyable canal cruise. We love Amsterdam. Kind regards, Claire Carter
---
September 30, 2010
Anonymous
The canal cruise was a success!!! our group really enjoyed !!! Sushi was great !!! Your service and contribution were essential to our success!!
---
June 09, 2010
Linda van der Westen
Food was excellent, the captain wonderful and our team (13 men!) had a wonderful time. We checked if we would still go as weather was terrible, but Roel (the captain) was very relaxed about it. This was definitely a good choice and I recommend this ship/captain/organization to anybody who wants to enjoy Amsterdam!
---
May 15, 2010
Anonymous
We had a lovely afternoon, a great skipper! (roel) Roel took his time with the children, explained the 'water rules' and how to twist and turn through the canals using walkie talkie communication :) the kids loved it while the big kids hung out aft enjoying a glass of ros. It costs 'a little' but it was absolutely awesome!
---
May 05, 2010
Anonymous
overall we were very satisfied with the service. the captain was very approachable and friendly, so was his assistant. It was however very plain inside, i thought maybe they could have decorated it a bit more. maybe thats not common with these kind of boats, but its just a thought!? if we have another function we will definitely consider this boat again.
---
October 19, 2009
Anonymous
Very pleasant, the pick up and boat ride was exactly what we hoped for and expected. It was a very nice time. Some guests commented that the skipper was not very friendly and rather grouchy, but the woman on board helping with drinking was very sweet.
---
September 05, 2009
Anonymous
Fine boat, friendly staff. Just one medium size table for 11 persons is not enough. Catering not quite okay. Food (Spanish, 44 euro p.p.) too expensive in relation to quality. Bread, olives, aioli, salt and peppar were missing.
---
July 15, 2009
Anonymous
Bastiaan & Fay, I want to thank you very very much on behalf of the whole team whom were on the boat on July 3th, they had a fantastic time :) . Jana, Philips
---
June 30, 2009
Anonymous
The boat was fantastic. Everyone really liked it. It provided for the right mix of being professional and social.
---
June 28, 2009
Anonymous
Nice skipper and hotess! Good trip but too expensive to choose a two hours trip.
---
June 12, 2009
Anonymous
Thank you again for picking us up from the Hilton hotel and taking us to the Blauw on the Wall restaurant. We had a very successful business outing and signed a new supplier contract.
---
June 10, 2009
Anonymous
We love the Lady Ondine and we Love the champagne you serve.
---
June 05, 2009
Anonymous
Thank you for picking us up from the hotel de l Europe and showing us Amsterdam from the waterways.
---
June 04, 2009
Anonymous
Thank you for the boat ride at the end of the RAI conference.
---
May 28, 2009
---
May 19, 2009
Anonymous
I hardly use the word excellent, but I have to use it now: excellent.
---
May 18, 2009
Anonymous
We would say 8. Probably higher if it hadn't rained!!
---
May 13, 2009
Anonymous
Dear crew, we had a fantastic wedding and would like to thank you very much for organizing the wedding transport by boat. We could not have had a more perfect wedding and the boat ride on the Lady Ondine from the church to the restaurant was unbeatable. Thanks so much.
---
May 11, 2009
Anonymous
Thanks for a great candle light dinner and canal cruise. It made our trip to Amsterdam all the more special.
---
May 10, 2009
Anonymous
One would hardly expect that a boat that's 100 years old is in such great condition. The owner must spend a fortune in maintenance
---
May 06, 2009
Anonymous
Lovely company outing. Our clients enjoyed themselves tremendously.
---
May 04, 2009
Anonymous
Perfect setting, perfect crew and skipper, perfect weather, perfect boat, perfect company, perfect city!
---
May 02, 2009
Anonymous
Thanks to the concierge at the hotel de L' Europe who mentioned the Lady Ondine for a leasy sunday brunch on the water. What a treat. We felt a little royal for the during the 3 hour canal cruise.
---
May 01, 2009
Anonymous
Rather impressive. The Lady Ondine is 100 years of age and still in mind condition. Keep up the good work.
---
April 29, 2009
Anonymous
Fantastic canal cruise and very entertaining crew. Thanks again.
---
April 26, 2009
Anonymous
What luck we met with Bas at the RAI convention center. The candle light dinner on the Lady Ondine made our business trip to Amsterdam complete. Thanks again and we would already like to book the Ondine for next year.
For this boat the following reviews are available in other languages:
The Rent A Boat Amsterdam client reviews reflect the personal opinions of www.rentaboatamsterdam.com clients who filled out a questionnaire after their canal cruise. These opinions do not necessarily represent the views of Rent A Boat Amsterdam. To browse all our Amsterdam rental boats please click here. Rent a boat in Amsterdam quickly, at fair rates and without reservation costs at Rent A Boat Amsterdam: Plenty of choice, lowest rate guarantee, genuine guest reviews and multilingual.